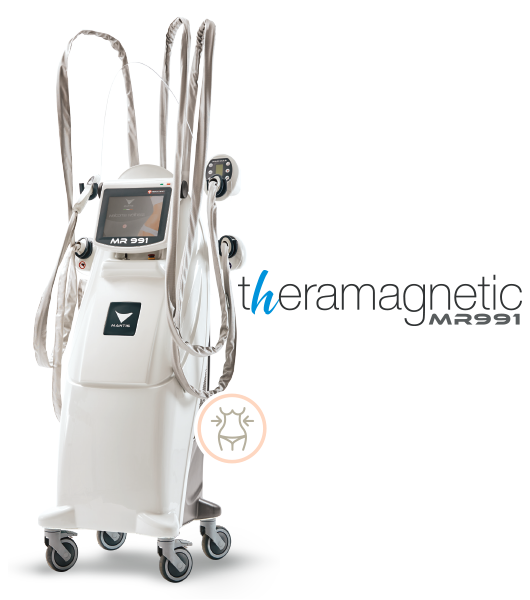 Theramagnetic MR991, advanced technology, 100% made in Italy
The most technologically evolved system to improve face and body imperfections.
The non-invasive solution that restores natural beauty, improves health and offers a renewed psychophysical sense of balance.
The Theramagnetic treatment is pleasing and relaxing for patients. It works on the entire body, producing a general sense of well-being and stimulating cell regeneration thanks to the exclusive patented D.E.S.
Technology system, whereby an effective endomassage is combined with the renowned properties of magnetic microcurrents based on stochastic resonance.

D.E.S. Technology - Dual Energy System
A patented system that combines the use of two high-performance technologies: one mechanical (MRM) and one energetic (CMPS).
MRM > Mechanical Manipulation with Motorised Rollers
Two motorised rollers mechanically reproduce a manual MRM massage (Mechanical manipulation with motorised rollers), but with improved results.
It is a non-invasive treatment defined as an ENDOMASSAGE, which combines the two-way movement of the motorised rollers with skin suction, for a deeper and more effective action on the blemish being treated, with the possibility to work at different power levels and frequencies.
CMPS > Magneticmicrocurrents based on stochastic resonance
CMPS – Magnetic Microcurrents based on Stochastic Resonance – are an excellent cell regenerator able to improve and speed up the exchange of substances between cells.
Magnetic microcurrents stimulate fibroblasts, the heart of connective tissue, encouraging proliferation. The cells therefore receive an increased supply of oxygen and naturally eliminate waste substances.
Skin tone is thus restored, along with a healthier, more luminous appearance. The results of CMPS are immediately visible and last over time.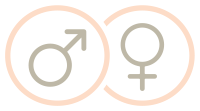 Theramagnetic is much more than a simple beauty treatment.
It is a unique experience that regenerates the body and mind, making it possible to rediscover one's natural psychophysical balance for an improved sensation of well-being.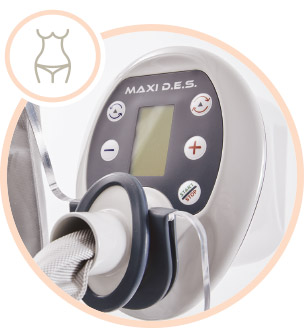 (MRM+CMPS)
Featuring two bidirectional rollers, a pulsated suction system and CMPS, the MAXI DES handpiece is ideal for treating large areas such as buttocks and thighs.
(MRM+CMPS)
Featuring the same characteristics as the MAXI DES handpiece, but smaller in size, this option is ideal for treating smaller parts of the body, such as legs, arms and abdomen.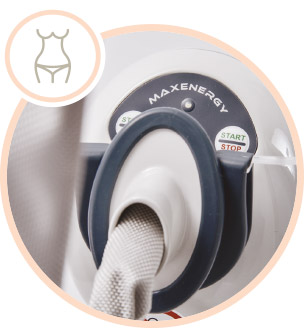 (CMPS with capacitor discharge)
A handpiece consisting in a special Magnetic Microcurrent system that works on skin blemishes, improving and encouraging cell regeneration.
(CMPS+MICRO SUCTION)
The micro suction and CMPS system characterising the VIXO handpiece work specifically on face and neck blemishes for an anti-ageing effect.
Anti-ageing

Modelling and contouring

Slimming

Draining

Local activation of lipolytic processes

Antioxidant

Increased quantities of hyaluronic acid

Increased numbers of fibroblasts

Strengthens and improves tissue elasticity

Increases the body's defences

Improves microcirculation
Cellulite and orange-peel effect

Loose skin

Stretch marks

Water retention

Localised fat

Post-pregnancy
Smooths wrinkles

Firms the skin

Prevent ageing
Reduces stress

Effective in treating sleep disturbances and insomnia

Reduces tiredness

Improve mood

Increased physical and mental activity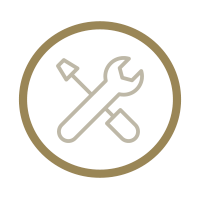 Tele-assistance is a remote technical support mode that provides direct or indirect interaction on the equipment. Mantis technicians work remotely, without the need to work on site, ensuring constant and efficient supervision.