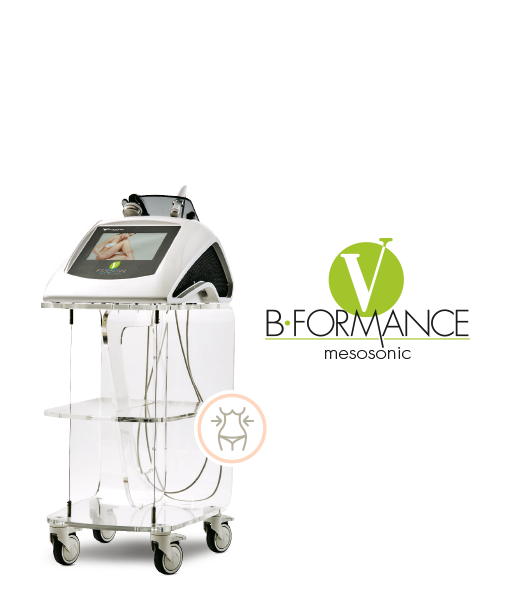 The dual action of ultrasounds combined with mesoporation
Studies and a continuous research into new, high-performance and cutting-edge technologies in the aesthetic and medical aesthetic fields have led MANTIS engineers to combine the recognised benefits of ultrasounds with the conveying power of mesoporation (non-invasive mesotherapy without the use of needles), developing a device unique in its kind, which features a combined dual action: ultrasounds + mesoporation for an excellent B•FORMANCE.
The face and body handpieces make it possible to treat different areas and convey the active ingredients contained in the products used during the treatment.
However, the real innovation of B•FORMANCE consist in the ability of both handpieces to convey both serums and creams.
The face handpiece, with a 28 mm diameter, makes it possible to work even in the smallest zones, thus treating blemishes around the eyes and lips.
Its ergonomic design makes it easy to handle and use.
The body handpiece, with a 60 mm diameter, is larger than the face handpiece and allows the accurate and fast treatment of larger areas.
The unique rounded shape ensures sliding movements, while the effective grip makes the handpiece particularly easy to handle.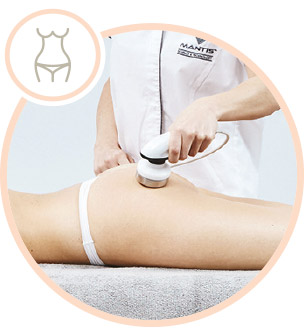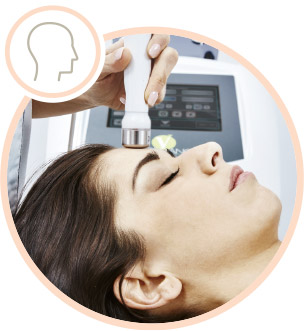 A new, non-invasive parenteral method allowing the active ingredients of serums and creams to be absorbed in depth.
Thanks to a series of mild electric pulses, the "channels" (electropores) of the tissue structures are opened, activating the interstitial and intracellular fluid flows that allow the active ingredients of the products used during the treatment to rapidly penetrate the skin, thus obtaining the desired results.
High frequency waves that transfer energy, which is converted into heat containing renowned therapeutic properties. This technology consists of a mechanical stress which caused the movement of the tissue molecules, inducing pressure variations that move the liquid inside the biological tissues and realign the collagen fibres. Ultrasounds are used in a broad range of fields, among which therapeutic and cosmetic.
The ultrasounds, enhanced by the efficient conveying power of mesoporation, give life to an innovative device for the aesthetic medicine and professional aesthetic sectors: B•FORMANCE.
The action of the active ingredients conveyed during the treatment is enhanced, thus guaranteeing immediate results.
B•FORMANCE for the face is ideal to treat thin and dehydrated skin and to reduce the signs of ageing and photoageing, such as wrinkles and spots. Excellent results have also been obtained in the treatment of atonic skin, which causes an "emptying" and sagging effect on the shape of the face.
Treatments:
Anti-ageing
Toning and filling
Total face